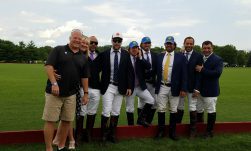 JAMAICA TOURIST BOARD SPONSORS JAMAICAN TEAM IN INTERNATIONAL POLO SERIES
Sep 06, 2017
KINGSTON, JAMAICA  – For the second consecutive year, Chicago's Oak Brook Polo Club welcomed a Jamaican team  which played for The Drake Challenge Cup, one of Oak Brook's oldest and most celebrated trophies. Sponsored by the Jamaica Tourist Board (JTB), the Kingston Polo Club played their match in August  and was captained by Marc Melville, as they challenged Chicago's Oak Brook Polo Club for the trophy.

Above:  Captain Marc Melville (second right) and members of his Kingston Polo Club, pose with Chicago's Oak Brook Polo Club and Jamaica Travel Specialists Marc Ponti (left) and Karen Murdock (second left) during the Drake Challenge Cup.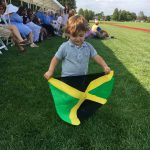 Young fan showing off his Jamaican pride.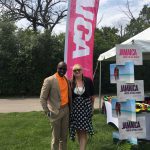 During The Drake Challenge Cup, Jamaica Tourist Board's (JTB)Mark McDermoth, Business Development Manager – Midwest USA, hosted a field-side hospitality tent where top Jamaica Travel Specialists and Chicago-based media  enjoyed the polo match,  tasty Jamaican cuisine served with refreshing Red Stripe. Above, Mark McDermoth (left) shares lens with Jamaica Travel Specialist Karen Murdock at the JTB field-side hospitality tent. Other guests at the JTB hospitality tent included representatives from Chicago Magazine, Chicago Parent, Leisure & Hospitality International, The Chicago Chic and Social Life Chicago.